BOT >Twitterbot
Definition:

A bot is an autonomous software machine that acts as a person or personifies a concept,
creature, or thing.

Short for robot, a bot is a computer program designed to operate autonomously, performing scheduled,
responsive, or real-time operations in a computer, through the Internet, and/or on social media networks.
What distinguishes bots from other kinds of software is that they interact with and/or produce content
for humans, often assuming a human persona. [http://collection.eliterature.org/3/collection-bots.html]
BOT http://collection.eliterature.org/3/keyword.html
poem.exe, LIAM COOKE
https://twitter.com/IAM_SHAKESPEARE
https://twitter.com/MagicRealismBot
https://twitter.com/regrettoegret
Methods to generate bots:
1. Context-free grammars
2. Natural language processing: algorithms are applied to a corpus of texts
3. using an API (application program interface) to extract texts and sources from news sites, Twitter trends...
1. Recontextualisation
@thewaybot (by @elibrody)
@pentametron (by @ranjit)
2. Procedural Editing
@boy2bot (by @rainshapes)

3. Juxtaposition
@litpatches_txt (by @lizardengland)
@TwoHeadlines (by @tinysubversions)

4. Signal from Noise
@rom_txt (by @zachwhalen)
@MOVIESCRIPTCAPS (by @thricedotted)

5. Space Exploration
@restartthevoid (by @NoraReed)

6. Exhaustion
@everyword (by @aparrish )
@MagicRealismBot,
7. Imitation
@oliviataters
@poem_exe

8. Instruction
@tranquilbot (by @slimedaughter)
create a twitter account
go to Cheap Bots, Done Quick! and login
usa form text to write your own bot

TUTORIAL

1. http://air.decontextualize.com/tracery/

Don't @mention people who haven't opted in
Don't follow Twitter users who haven't opted in
Don't use a pre-existing hashtag
Don't go over your rate limits
"The Doctor and his companion #companion# are
#touring# #place#. She #reactToPlace# and #hasPlaceProblem#, before accidentally #gettingIntoTrouble#.
The Doctor tries to save her, but in the process finds out
#terribleSecret#. They #actionBeat# and #actionBeat#
and finally #actionBeat#. The Doctor saves the day just
in time with #doctorSkill#. The mysterious '#mysteryThing#' is hinted at yet again."
PRECURSORs: "computer as text-generator"


1923 -TristanTzara's advised To Make a Dadaist Poem as follows:
William Burroughs, "Cut-ups"
Burroughs' essay "The Cut-Up Method of Brion Gysin" acknowledges this in its first sentence:

.

At a surrealist rally in the1920s TristanTzara the man from nowhere proposed to create a poem on the spot by pulling words out of a hat. A riot ensued wrecked the theater. [. . . ] In the summer of 1959 Brion Gysin painter and writer cut newspaper articles into sections and rearranged the sections at random.


"The cut-up is actually closer to the facts of perception than representational painting. Take a walk down a city street and put down what you have just seen on canvas. You have seen a person cut in two by a car, bits and pieces of street signs and advertisements, reflections from shop windows - a montage of fragments. Writing is still confined to the representational straitjacket of the novel ... consciousness is a cut up. Every time you walk down the street or look out of the window, your stream of consciousness is cut by random factors."
Julio Cortazar, Composition (1964)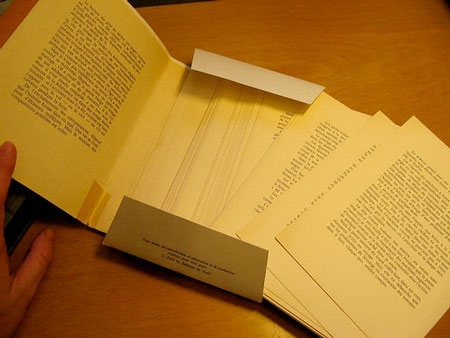 Sulla confezione: "TANTI ROMANZI QUANTI SONO I LETTORI. L'ordine delle pagine è casuale: mescolandole, a ciascuno il "suo" romanzo". Nella prefazione all'edizione originale, Saporta avverte: "Il lettore è pregato di mescolare queste pagine come un mazzo di carte. Di tagliare, se lo desidera, con la mano sinistra, come si fa da una cartomante. L'ordine con il quale le pagine usciranno dal mazzo orienterà il destino di X. Infatti il tempo e l'ordine degli avvenimenti regolano la vita più che la natura degli avvenimenti stessi".
"The reader is requested to shuffle these pages like a deck of cards; to cut, if he likes, with his left hand, as at a fortuneteller's. The order the pages then assume will orient X's fate.
"For the time and order of events control a man's life more than the nature of such events. Certainly there is a framework which history imposes: the presence of a man in the resistance, his transfer to the Army of Occupation in Germany, relate to a specific period. Similarly, the events that marked his childhood cannot be presented in the same way as those which he experienced as an adult.
"Nor is it a matter of indifference to know if he met his mistress Dagmar before or after his marriage; if he took advantage of Helga at the time of her adolescence or her maturity; if the theft he has committed occurred under cover of the resistance or in less troubles times; if the automobile accident in which he has been hurt is unrelated to the theft — or the rape — or if it occurred during his getaway.
"Whether the story ends well or badly depends on the concatenation of circumstances. A life if composed of many elements. But the number of possible compositions is infinite."
Christopher Strachey
Combinatory Love Letters (1952)
Apart from the beginning and the ending of the letters, there are only two basic types of sentence. The first is "My—(adj.)—(noun)—(adv.)—(verb) your—(adj.)—(noun)." There are lists of appropriate adjectives, nouns, adverbs, and verbs from which the blanks are filled in at random. There is also a further random choice as to whether or not the adjectives and adverbs are included at all. The second type is simply "You are My—(adj.)—(noun)," and in this case the adjective is always present. There is a random choice of which type of sentence is to be used, but if there are two consecutive sentences of the second type, the first ends with a colon (unfortunately the teleprinter of the computer had no comma) and the initial "You are" of the second is omitted. The letter starts with two words chosen from the special lists; there are then five sentences of one of the two basic types, and the letter ends "Yours (adv.) M.U.C.." (26-27)
Here is an example :

JEWEL JEWEL
MY HEART IS WEDDED TO YOUR WISH. MY ADORABLE YEARNING FONDLY CHERISHES YOUR KEEN CHARM. MY PRECIOUS RAPTURE PASSIONATELY LONGS FOR YOUR BEAUTIFUL AMBITION. YOU ARE MY TENDER LUST. MY YEARNING CLINGS TO YOUR PASSION.
YOURS IMPATIENTLY
M. U. C.

Italian Text Generator of haiku
Rui Torres,Poemas no meio do caminho (2009, Poems in the Middle of the Road), http://www.telepoesis.net/caminho/caminho_index.html
Plot Generator: Create a Crime Thriller Plot in Seconds
Generated Detective: A NaNoGenmo comic #70
As Poulaki maintains, puzzle stories
(...) remain deliberately and emphatically open, rather than closed in a beginning-middle-end schema. They abound with instances of self-reflexivity, constantly calling into question the borders between the fictional and the factual, and they follow a descriptive and object-oriented rather than causality-driven presentation of their storyworlds.
[M. Poulaki, "Puzzled Hollywood and the Return of Complex Films", in W. Buckland (ed.), Hollywood Puzzle Films, Routledge, New York, 2014, p. 37]
1960 inventore Joseph Weizenbaum all'MIT crea Eliza/Doctor un computer text generator
esempio:
>> Hello.
How do you do. Please state your problem.
>> what is the weather?
Why do you ask ?
>> because i am sad
Is that the real reason ?
>> yes it is
You seem to be quite positive.
>> not at all
I'm not sure I understand you fully.
>> don't worry
Please go on.
>> i need to know about the weather today
What would it mean to you if you got to know about the weather today ?
>> i change my shoes
Your shoes ?
>> yes
You are sure.
>> yes
I see.
>> and you?
We were discussing you -- not me.
>> sorry
Please don't apologise.
>> I am curious
Is it because you are curious that you came to me ?
>> yes
I understand.
>> no
Are you saying no just to be negative?
>> yes
You seem to be quite positive.
>> no
You are being a bit negative.
>> yes
You are sure.
>> no
Why not ?
>> i am sad
I am sorry to hear that you are sad.
>> don't worry
Lets discuss further why your shoes .
HAMLET TALKS TO DOCTOR ELIZA, William J. Rapaport

Façade , Michael Mateas and Andrew Stern
GENERATIVE ART
net.art generator (1999) di Cornelia Sollfrank
«A clever artist makes the machine do the work!»
Mark Hansen and Ben Rubin, LISTENING POST

.

Intera frase su uno stesso schermo + molteplici voci:
http://www.youtube.com/watch?v=aIhtW5vMcXg&feature=related

stesso testo scorre su più display + una voce narrante; parole singole + voci in sequenza; dissolvenza delle lettere da min5.11:
http://www.youtube.com/watch?v=lSt2bA2H8CY&feature=related

le parole si compitano sui singoli schermi una alla volta :
http://www.youtube.com/watch?v=r1yFBbPPkt8&feature=related

.

"I am"

età: "I am 18, I am 26, I am 45",

preposizioni di luogo, "I am from Latvia, I am here, I am in Pennsylvania",

aggettivi qualificativi, "I am nice, I am hot, I am alive, I am confortable with … ",

participi presenti o passati, "I am eating, I am freezing, I am used to",

sostantivi soprattutto riferibili alle professioni degli utenti, e così via.

Alcune tra le forme processate dall'installazione sono appunto: "I am", "You will", "Thanks", "I like", "I think"

Noah Wardrip-Fruin, Impermanente agent:

"The story of software agents begins with the idea of a 'soft robot' - capable of carrying out tasks toward a goal, while requesting and receiving advice in human terms. In recent years, a much narrower marketing fantasy of the agent has emerged, with a relationship to actual agent technologies as tenuous as Robbie the Robot's relationship to factory robots, and it grows despite failures such as Microsoft Bob. Now we often see agents as anthropomorphized, self-customizing virtual servants designed for a single task: to be a pleasing interface to a world of information that does not please us."


The Impermanence Agent (1998-2002) has been exhibited at
Guggenheim Museum, New York (at "Brave New Word" in Works and Process series, organized by American Letters and Commentary)
Subverting the Market: Artwork on the Web
The New Museum of Contemporary Art, Z Media Lounge (in show organized by Harvestworks)
Jumpin' at the Diner
SIGGRAPH 2000
Digital Arts and Culture 1999
Digital Salon 1999


Project by Noah Wardrip-Fruin, Adam Chapman, Brion Moss, and Duane Whitehurst, The Impermanent Agent

WWW è un network Environment partecipant

John Cayley, Translation (2004), http://collection.eliterature.org/1/works/cayley__translation.html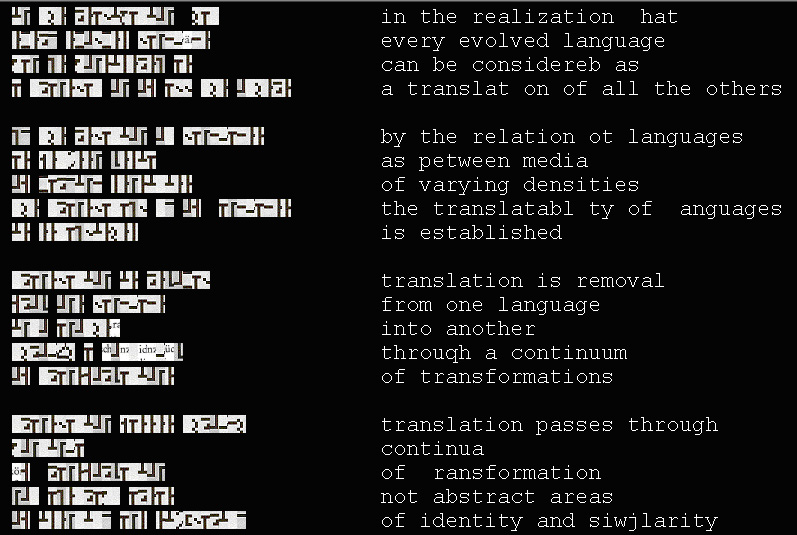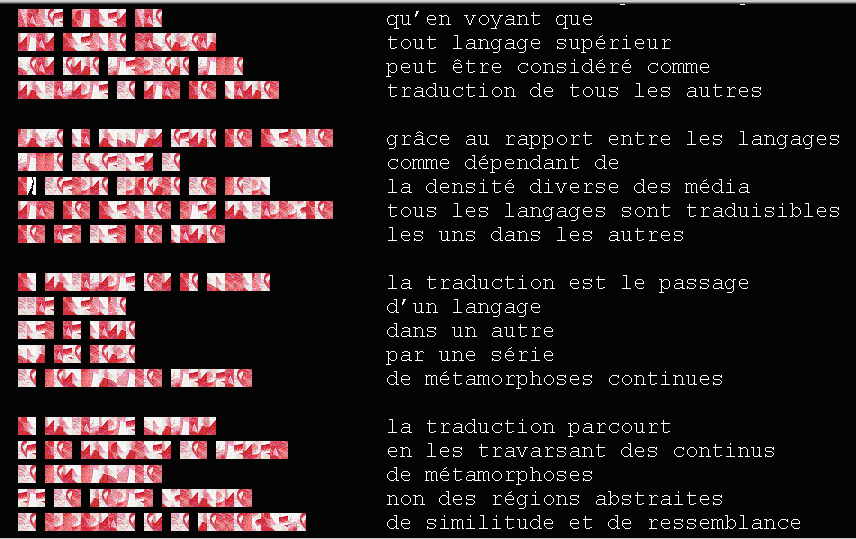 John Cayley, windsound http://collection.eliterature.org/1/works/cayley__windsound.html
Winner of the Electronic Literature Organisation's prize for poetry in 2001
Daniel Lee: http://www.daniellee.com/Origin.htm
"If texts are laid out in a regular grid, as a table of letters, one table for the source and one table for the target, to morph transliterally from one text (one table of letters) to another, is to work out, letter-by-letter, how the source letters will become the target ones. Assume your alphabet (including 'space' and apostrophe, 28 letters in all) is arranged in a special loop where letters considered to be similar in sound are clustered together. The aim is to work out the shortest distance round the loop (clockwise or anti-clockwise) from each source to each target. These are the steps you have to take (the maximum number is 14). Use all of the maximum fourteen possible steps from source to target, but only replacing letters when you have to (in order to get to the target in time). Make the morph (probabilistically) reluctant to change at first, then make it (probabilistically) anxious to get to the target once it is close (so that steps closer to one or the other resolved text approximate to language spelt normally).", http://programmatology.shadoof.net/index.php?p=contents/transliteral.html . Description and reading instruction: http://programmatology.shadoof.net/index.php?p=works/wsqt/windsound.html
Abilio Cavalheiro e Pedro Barbosa, SYNTEX (1992- 1995)
Porto (1977)